Taking Your Business Online with CRM Store

Taking Your Business Online: Deceptively Simple 

You probably don't need another Internet article telling you how you should take your business online and engage in e-commerce as soon as possible. This topic's been running rampant recently - and there's nothing wrong with all these articles, really. E-commerce is on the rise, there's hardly any doubt about that.

What these articles don't tell you is how a small business (that has little to no online presence) can make this transition to e-commerce and become a success overnight. And that's too bad because a lot of small business owners would really like to know.

Sure, you can find loads of guides and recommendations and plans but they all boil down to this:

Go get your website planned, designed, developed, and hosted (i.e., pay for web design services)

Go get the online store component of your website set up, tested, and running (i.e., pay for web development services)




Go get your website searchable (i.e., pay for SEO services)




Go get your website advertised (i.e., pay for digital marketing services)




Go get your website/brand represented on social media (i.e., pay for SMM services)



Supposedly, after this, you should get tons of clients storming your website in hopes of buying at least something. In reality, you may get only a handful and even those will not be easy to convert.
This leaves you with lots of time + money wasted and essentially means that you have to rely on your brick-and-mortar business even more than before. Not a great way to take your business online, is it?
Okay, so we know what the wrong way is. How about the right way? Well, in any case, you are definitely going to need a website - whether you will get one done by a web design studio or simply use a ready-made template is solely based on the budget and personal preferences.

Arguably, your most urgent (and difficult) task will be promoting your website. And who can be better early adopters than your current physical customers? These people buy from you anyway so they know your business is trustworthy.

Get these people to follow your social media profiles and inform them of the new shopping experience you can offer them online - through your website. While explaining all that, you might mention some of the benefits this new experience holds for your customers:

they can shop without leaving home and have their order delivered to them
they can be easily notified of your sales and promotions
they can get personalized offers and bonuses based on their shopping preferences
"But how am I going to arrange this whole new experience if I only have a website that's like half-working?" you might ask. And that's where the tool we've mentioned at the beginning of the article comes in.
Since it's not your first time online, there's probably no need to explain what CRM is. In fact, you may even know a thing or two about the Bitrix24 CRM (we hope so).

However, the concept of "CRM Store" (as we put it) does require some explanation since it's such a simple yet ingenious idea that could make you go "why hasn't anyone thought about it earlier."

As evident from its name, CRM Store is an add-on that exists inside the Bitrix24 CRM. It is an online sales tool that allows you to handle orders and accept payments from your customers straight in your Bitrix24 CRM. Here's a cool little video that shows how this stuff works.

Now, let's go deeper and see what the process looks like from your and your customer's perspective.

CRM Store - from a business owner's perspective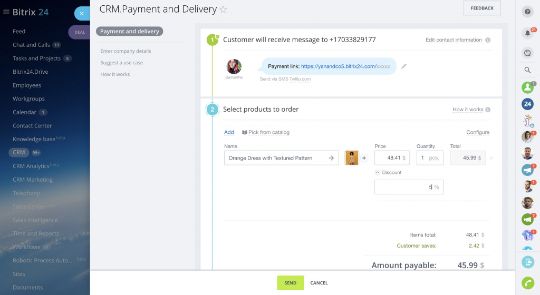 Even though it's as simple as can be, CRM Store does require some basic setup. You need to add the information about your company to the payment page, configure the SMS service provider (e.g., Twilio), and connect payment systems. That's it!

You can receive orders from your clients via phone, live chat, social media, or messengers. Once an order is processed, you need to generate a link to the order page containing order details, the amount payable, and payment options. The final step is sending the link to the client via SMS.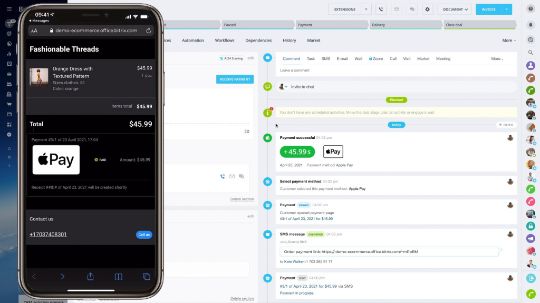 CRM Store - from a customer's perspective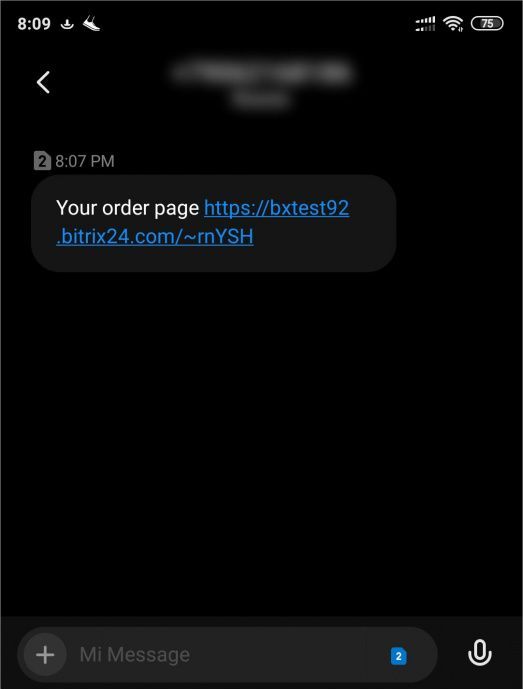 Step 1. A potential customer is browsing your online store and sees something they like - one click after, their order is placed and automatically added to your CRM.


Step 2. Upon receiving the order, you choose the product from the catalog and send the customer a text message with the payment link.

Step 3. The customer clicks on the link and purchases the product via any Apple Pay, Google Pay, credit card, or any other method. The payment status is automatically updated in your CRM.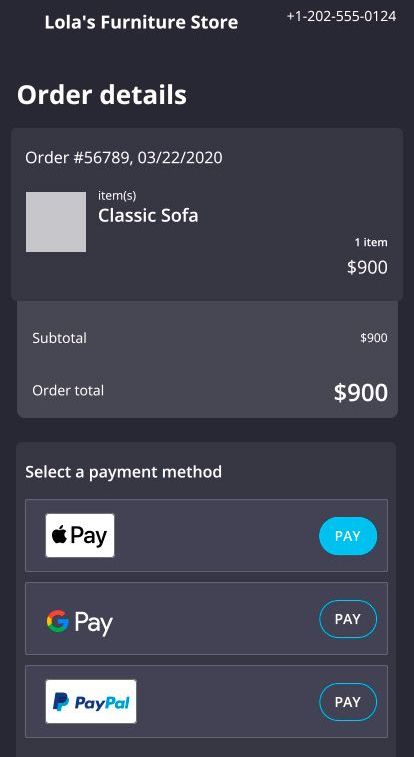 Bitrix24 CRM Store - What Makes It Great?

It's convenient - all you need to do is to send an SMS message to a customer. The customer follows the link and pays the order.

It's quick - it takes your manager a couple of minutes to generate an order link, send it to a client, and accept the order payment. Every step is saved to the deal timeline.

It's customer-oriented - even if your offline store is closed, you can still provide your customers with an opportunity to buy from you. That certainly can't hurt their loyalty.

Oh, and one more important thing - Bitrix24 CRM Store is fully compliant with your local legislation regulating online payment and e-commerce. The whole process is completely transparent and all the necessary formalities have been taken care of so that you could focus on growing your sales and improving your customer experience.

Bitrix24 CRM Store is a nifty tool that can ease your way into the world of e-commerce and increase your online sales. If you combine it with some other Bitrix24 capabilities (like Online Stores), you can achieve even more impressive results - that's like having a complete e-commerce suite on your hands.

For those of you who have a Bitrix24 account, CRM Store is already available to you. For those of you who are yet to become Bitrix24 users, get your free account here.

Source from: Bitrix24.com