A System For Designated Non-Financial Businesses and Professions and other Non-Bank Financial Institutions ("DNFBP") to comply with BNM AML/CFT guidelines under Act 2001 (AMLA).
AML/CTF solution
AUTOMATIC SCREENING OF YOUR CUSTOMER (KYC)
The system will perform KYC checks to ensure your organisation have capture sufficient data about your customer. Both individual and corporate entity is checked and are recorded in system for tracking. A KYC scoring will reflect how complete the information is so that your organisation can control your risk profile.
Screening will be by performed by the system against MOHA, UNSCR Sanction List for Terrorism, Sanction Country and High Risk Nature of Business.
The system can be expanded to include OFAC, AUSTRAC, BNM, Securities Commission, Bankruptcies and many other lists deemed necessary.
STATUTORY TRANSACTION REPORTING (STR)
The system will automatically generate STR reports to be provided to your regulatory bodies. This will ensure quick and accurate information are provided to your regulatory body as part of the compliance.

RISK PROFILING
The platform will categorise client to 3 risk level; Low, Medium and High based on KYC score and the risk profiling screening done.
The risk profiling is done based on client information, product & services and geographic location.
ENHANCED DUE DILIGENCE (EDD)
The system will have workflow to execute additional checking required for EDD stage. Additional questionnaire and declaration will requested from customer whom has higher risk scoring.

CUSTOMER DATABASE
Capture and store your customer information in a database. Fulfilled the KYC (know your customer) requirements and support easy storage and retrieval of identification documents (IC, M&A, SSM). The system will also allows you to capture activities and contact history between you and your client to provide better customer experience and 360 degrees view of your customer.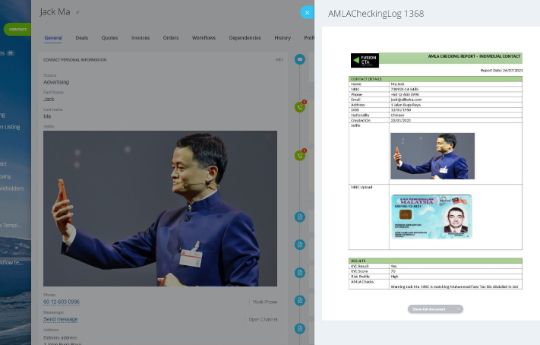 Integrated Solution
Integrated solution using existing CRM data and process in Bitrix24 like contact, company and deals.



You can execute screening on ad-hoc basis (manually) or configure it to run periodically based on time or based on events.
Can be customized according to your business risk profile and add additional screening databases.
KYC & AMLA REPORTING
System has logging in terms of when checking was done and with what information at that time.
Report are generated at contact or company level to indicate data that was checked and the KYC scoring and risk profile
The system will classify individual or corporate entity in 3 tier risk profiling; low, medium and high.
Individual or corporate entity with high risk profile will notify compliance officer and an approval process will be executed.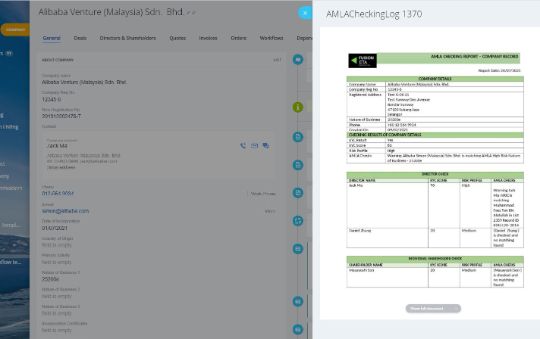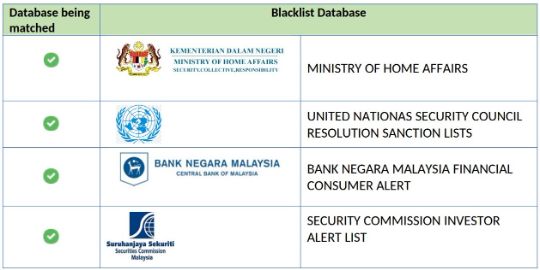 Screening Database
The system is pre-loaded with blacklist profile both individual and corporate entity published by MOHA, UNSCR, BNM and Security Commission.
Through the alert and notification provided by the regulatory bodies above, we help you to keep the list updated through the maintenance subscription.
FusionETA AML/CTF Solution Is For
Lawyers, Notaries Public and Accountants
Dealers in Precious Metals or Precious Stones
Registered Real Estate Agents
Moneylenders and Pawnbrokers
Leasing and Factoring Companies
Other Non-Bank Financial Institutions